Luxury country home with private pool
Besides our own apartments in Casa San Carlo, we also rent out another property nearby, along our road, the Vocabolo Perumpetto. This rental house is called Casa Rosi: a beautiful private home with a large swimming pool.  Casa Rosi is a perfect alternative for those who like the idea of a bit more privacy, but still want to have the opportunity to join in the fun during – for example – pizza night with the other guests at Casa San Carlo.
Recently renovated private home with swimming pool (7 people)
In walking distance from Casa San Carlo, you will find Casa Rosi, a beautifully renovated , tyically Umbrian farmhouse wit hits own swimming pool, BBQ and pizza oven.
On the ground floor, there is a spacious living room with a fire place, a dining area with a large dining table and an office corner. De modern kitchen is equiped with luxury items, e.g. a large oven, fridge and dishwasher. There is also a guest toilet on this floor. All doors in the living room open up onto the terrace. All windows are fitted with insect screens.
First floor: here you will find 3 bedrooms (two with queen beds and one with 2 single beds) and 2 bathrooms. Each bathroom has a toilet, luxury shower and sink. In one of the bedrooms an extra sofa bed is available, in case of a 7th person staying in the house.
Around the house the owners have created numerous sitting areas. In front of the house, guests can enjoy their meals at the outdoor dining table under the pergola. Then there is a 'lounge area' on the side of the house, and of course around the swimming pool guests can also sit or lie in the sun. Those who prefer shade can sit under the wooden structure at the end of the pool.There is wifi internet, and in the warmer months of July and August air conditioning is available.
The swimming pool is cleaned every other day and the garden is maintained once a week.
Casa Rosi is a very spacious and comfortable rental property for 6 guests and a baby (7 adults max, using the sofabed as well). It offers all the privacy you might long for during your holiday, and if you do want to join in at Casa San Carlo, you are of course more than welcome!
Casa Rosi is available in June, July, August and September 2021. 
Please contact us for the precise weeks that Casa Rosi is still available this summer, the prices per week/per season and for more info!
Prefer to book in Casa San Carlo itself?
Check availability here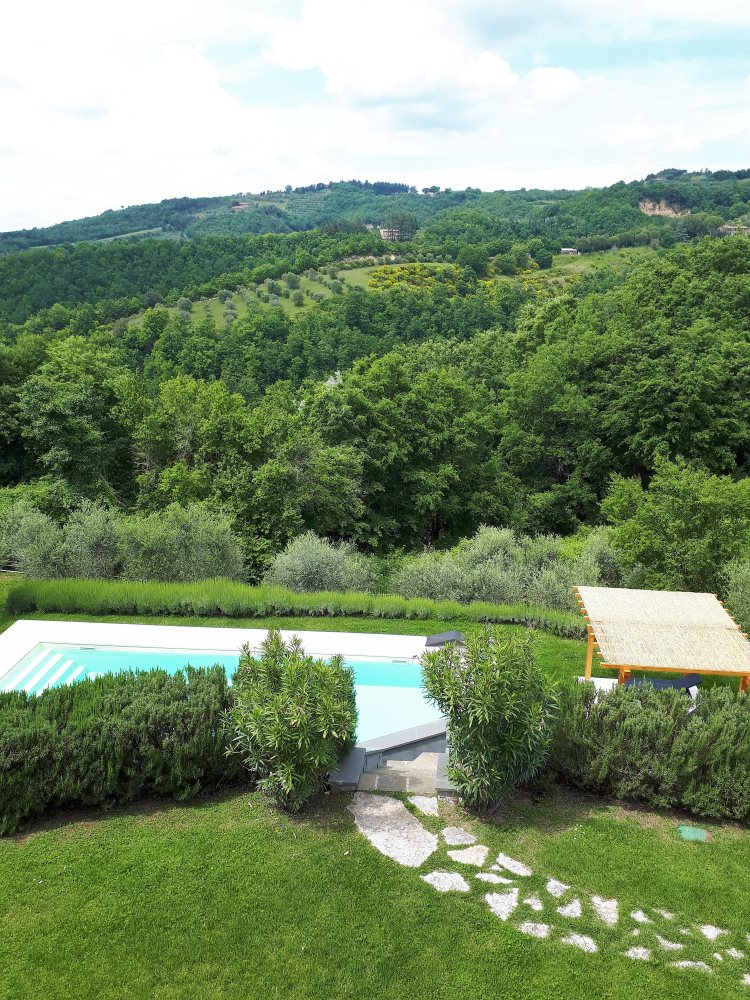 EXTRA EFFORT
Have all our own apartments in Casa San Carlo and Casa Rosi already been booked and are you still looking for a lovely holiday adress in Umbria? Email or call us for tips in the area, in recent years we have built up a valuable network. Who knows, we might be able to help you find a nice address nearby.