A day at the lake
Enjoying a lunch on the waterfront, a spaghetti 'alle vongole' or grilled fresh fish, and the a refreshing dive into the water or renting a boat for an hour or two!
If you leave the city of Orvieto behind you and drive into the direction of a town called Bolsena, you will be amazed by the sudden view of the vulcanic Bolsena Lake (Lago di Bolsena). Officially it lies in the region of Lazio, just below Umbria.
It is really beautiful, not too touristy yet, and the water is clear and refreshing because of its depth. But don't worry: close to the beach the water is very shallow (it slowly becomes deeper) so it is a perfect lake for small children as well! We have spent many, many days there with our own daughters.
Naturally, over the past 12 years, we have discovered quite a few lovely adresses for lunch at the waterfront! If you want to get into action: rent a boat or a waterbike with a slide! And finish your day with a 'gelato' in the little harbour of Capodimonte.
Trasimeno Lake
Umbria is surrounded by other regions and thus has no coast. But it has the largest lake in mid-Italy: Lago Trasimeno. The lake is located 29 kilometers from Casa San Carlo.
Trasimeno Lake, with its circumference of almost 60 kilometres, has a rich history: it was on these shores that Hannibal defeated the Romans in 217 BC. There are some nice villages on the lake, including Passignano, Tuoro sul Trasimeno and Castiglione del Lago. In the middle of the lake there are three islands: Isola Maggiore, Isola Minore and Isola Polvese. There are ferries to Isola Maggiore and Isola Polvese from the coastal locations. On the Isola Polvese you can visit a beautiful monastery and a castle from the 15th century.
If you like to tour the lake by Vespa: you can rent one at 'Umbria in Vespa' in the small town of San Feliciano. This rental company is run by Claudia (originally GErman), who will also give you tips fort he best route and a discount card for restaurants and bars along the way.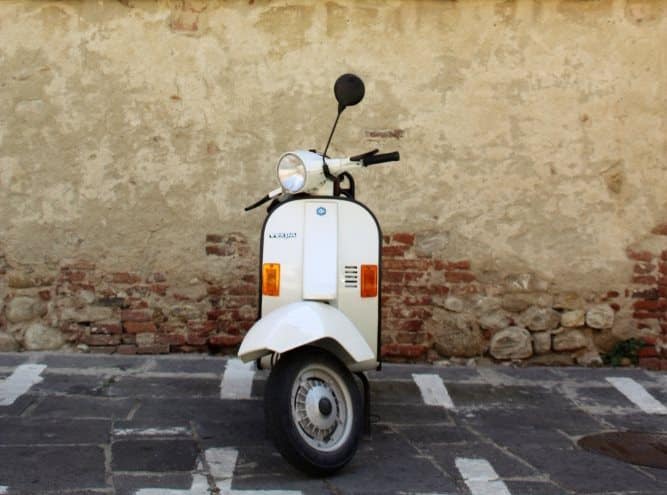 RENT A VESPA!
What is also nice: rent a Vespa for a day! Crossing around the lake, getting off for a coffee, pranzo or tasty ice cream ... great! Casa San Carlo collaborates with "Umbria in Vespa", in San Feliciano, run by Claudia, originally from Germany. She also gives you nice tips for the route and a discount card for some restaurants. You are guaranteed to have a nice day!
Book your stay in Umbria now!
Check availability